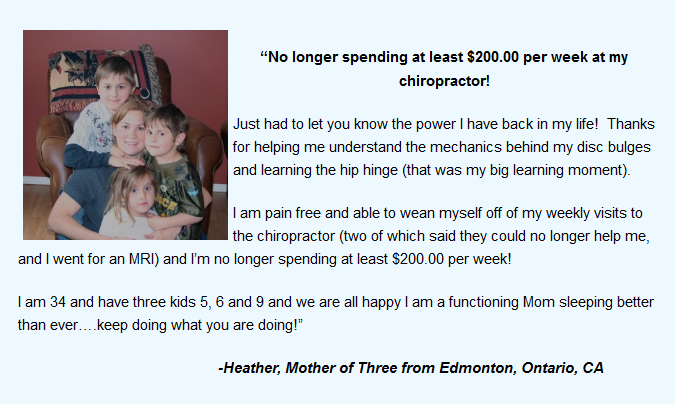 Are You Ready To Think "Outside The Conventional Medicine Box" And Discover A Brand New Proven Method To Eliminate Pain, Boost Energy, Create A Sense Of Inner Calm, And Get Your Posture, Your Health And Maybe Even Your Entire Life Back On Track?
New

"Organic Posture and Therapeutic Lifestyle Coaching Course"

Blends Groundbreaking Eastern European Posture Training With
Yoga Principles, Psychological Success Conditioning, and Age Reversal Nutrition To Create A Surprisingly Powerful System That's Got People Talking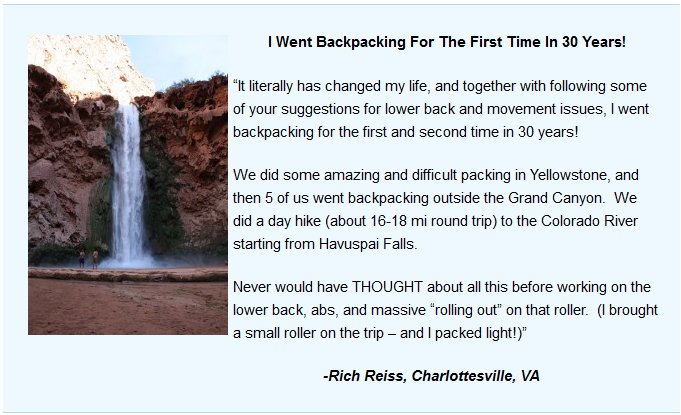 Every day Millions Of Pain Sufferers Are Led Astray By Costly, Ineffective, And Even Harmful Treatments That Never Get To The Real Cause Of Their Pain.
Now…By Correcting The Predictable Muscle Imbalance Of Crossed Posture Syndrome (CPS) and Removing The Stress That Lies At It's Root, You Can Live A More Meaningful Life With Less Stress, Less Pain, and More Energy!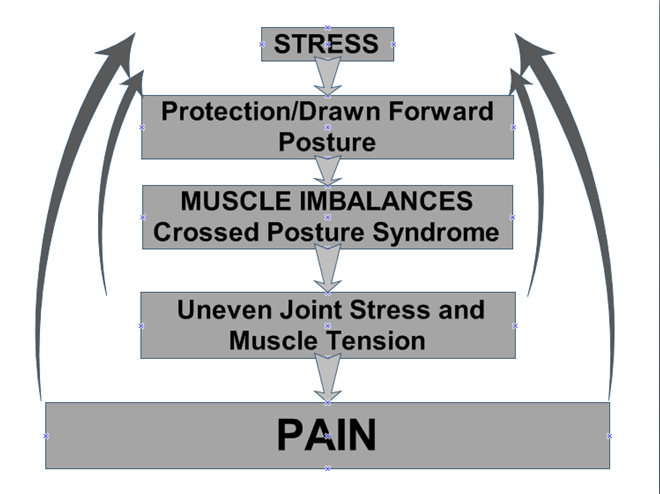 An Honest and Very Important Message From Dr. Steve Hoffman…
Just imagine if you never again had to worry about arthritis, spinal degeneration, and the disability most people associate with the "normal" aging process.

And what if you could "tap in" to the energy and confidence you once had as a child?

I realize that your current belief system may have you saying "that's impossible" but a whole new paradigm of "healing through functional movement" has emerged out of Eastern Europe that has finally revealed the missing link…the KEY that your doctor, therapist, or trainer has never even heard of.

This is the important part so stay with me here.
After spending years observing infants develop their upright posture, doctors and therapists from Prague, Czech Republic have developed a "reflex stimulation" system designed to automatically unload painfully stressed joints and muscles while creating an unbelievable sense of stability, strength, speed, balance, and flexibility.

I've had the honor of personally learning these techniques in a "hands on" environment with some of the masters.

And now it's time for you and anyone you care about to get informed about these breakthroughs because the bottom line is…
you don't have to settle for a life of mediocre health!

Now, just by taking action on a few simple concepts, you can reclaim lost energy and be moving pain free well into your 80's, 90's, and beyond!


To give you a little more background on me…after teaching my proven posture and health restoration methods to over half a million people in over 30 countries through my YouTube Channel, blogs, and social media, I've become officially known as the "PostureDoc".
As you may have seen on my Core Wellness TV episodes, I'm very passionate about this new way of re-awakening what I call your "True Core".
Because if there's ONE THING you can change to make you instantaneously feel and look younger and stronger, it's your relationship with gravity…your POSTURE!

And during the last 13 years treating my private clients with every kind of pain syndrome imaginable and teaching these concepts to hundreds of thousands of people online , I have reached a conclusion and discovered a TRUTH.
"IF YOUR POSTURE DOESN'T CHANGE…YOUR PROBLEM WILL RETURN!"

You MUST change your posture or else gravity is going to get you every single time!
And I'll be blunt, even though most doctors and chiropractors make their living off of people in pain…
I don't like it when pain returns. And I know you don't either.

And with the powerful methods in this course, you'll learn how to STAY out of pain rather than creating a dreaded "dependent" "Fix me, doc. I did it again" relationship with your practitioner.

In short…if you want a more pain free, centered, powerful, and younger looking body

that's going to provide you with the ability to do whatever you want for as long as you want,

then you need to experience this entire new paradigm of TRUE health care.

Now…the concept of

Reversing Crossed Posture Syndrome
Through Organic Posture

is very simple.
Your tight and overused muscles are released and relaxed while your

weak and underused muscles are reawakened and strengthened.
See what I mean in the picture below…
This new muscle balance takes the load off your joints and brings them into better alignment.
And that means better function and less pain!
Detecting and eliminating your corrupted posture and movement patterns is the KEY to the success of the program which not only relieves your pain and restores your posture, it also preserves and protects your joints for the rest of your life!

But here's the rub…even though you can get near miraculous results by just becoming aware of these new cutting edge physical exercise concepts from Prague…
The bottom line is that STRESS…no matter WHERE it comes from,
will always draw you back into the curled forward, aging posture.

That means you can't just do a set of exercises and reverse these stress induced muscle imbalance!

In order to "organically" re-awaken your perfect posture, you have to include all 3 ingredients to eliminate the cause of the stress.

1. Mindset

2. Movement

3. Nutrition

That's why the "Reverse CPS Now!" Home Training Course includes in-depth education and strategies to include all 3.
Here's What You Get With The NEW "Organic Posture Coaching Course"
:
Getting Started Module Plus 6 Additional Content Rich Physical Training Modules To Go Through At Your Own Pace:
Definitely…the most popular area of the site is the detailed instruction on how to do the very specific and targeted exercises that "Switch Off" the stress muscles and "Switch ON" your muscles of youth and renewal!
These exercises have been refined since I created a "Curves" type circuit in my office back in 2006.
Along with the Action Guides and Audio Health Coaching, they also went through a 51 minute circuit of these innovative exercises 3x per week.
Each station also had positive affirmations posted in order to rewire damaging and stressful thought patterns. (Those same affirmations are also included in the course).
This "Release and Rewire" process that these exercises create is the cornerstone of the course.
Why?
Because once you really experience the FEELING of what it's like to be totally centered, grounded, and "in touch" with your body, you can use that feeling to pull you back into peace when life gets crazy.
My favorite explanation of clients who really "get it" is "It feels like I'm floating".
That's EXACTLY what it's designed to do! You literally learn how to "recycle gravity". So instead of it dragging you down, you get to actually redirect it to give you more energy and more spring in your step!
And regarding cost…if I was teaching this one on one it would be $300/hour. That's WHY I decided to create the circuit of exercises, to make it more cost effective for people to get the amazing benefits!
The cost for learning and doing these exercises in the program was $30 per group training session and folks did this 3x/week for 12 weeks. That's $1080 worth of training.
And you get all those original exercises PLUS an additional 15 or so more that I've included.
And instead of always having to do the 39 minute "Flow Series" that's included in the course that strings most of the exercises together…
You can instead choose to do 'Mini-Circuits" instead which include a handful of exercises that you can knock out in about 10 to 20 minutes when you are a little tight on time!
Although my private clients have paid over $1000 for this same exact training, I plan to offer this exercise portion of the course for only $197 in the future. But for now, it is only available as part of the "Organic Posture Coaching Course"
Content Packed Q&A Videos!!

Each of the 6 physical exercise modules contains Q&A archives that I recorded while building the online course with our first 2 trial groups!
Odds are…their questions will answer a lot of YOUR questions and of course, answer questions you never would of thought to ask!
I could (and still might) package these up as DVD's and sell each hour of content for $20 (there's over 5 hours of Q&A…lots of great questions!)

So there's another $100 worth of material!

-Without ever doing an exercise, you can transform your posture, eliminate pain, and increase your energy and inner calm just by embodying these new ways of thinking and using your body.

-At last count there were 17 videos making up about an hour and 15 minutes. Another $27 minimum value.
Over 22 Hours of Audio Health Coaching:
Since most people I come across like to know WHY they are doing something instead of just following a program because some guru "said so", I've also included my lecture series…
– "The 10 Core Secrets To An Energetic And Pain Free Life" (90 minutes each)
•

Secret #1

"How to Rewire Your Subconscious Mind to Make Healthy Changes

Stick
•

Secret #2

"How To Boost Energy, Eliminate Pain, Relax Tense Muscles, and Improve Coordination"
•

Secret #3

"

Dysglycemia

– How to Balance Blood Sugar and Insulin for Healthy Weight Loss and Steady Mood."
•

Secret #4

"How to Cool the Fire of Chronic Inflammation"
•

Secret #5

"How To Optimize Energy Production"
•

Secret

#6

"How To Balance Hormones Naturally"
•

Secret #7

"

Methylation – The Master Key Process to Gene Control for Cancer, Depression, Heart Attacks, Strokes, Alzheimer's and More"
•

Secret #8

"Detoxification – How To Cleanse a Toxic Body"
•

Secret #9

"How To Optimize Your Immune System"
•

Secret #10

"Breaking the Chronic Stress Cycle"

Each audio health coaching session is approximately 90 minutes long and packed with proof of WHY you must pay attention to these vital processes in order to experience optimal health and avoid the pain and disability our society tends to associate with "old age".
After all, it's not about chronology and numbers…It's about how much STRESS you accumulate over the years!

Eliminate the stress, you reverse your body age and perfect "organic" posture comes naturally!

I sell the audios from these talks individually for $24.95 and there is an "Overview" lecture I did that summarizes all 10 secrets.

So that's 11 audio health coaching sessions worth a total of $274.45! And they're all included in the course!
12 "3 Pillars" Therapeutic Lifestyle Change Action Guide PDF's (70 plus pages):

In each of the 12 "TLC Action Guides" you'll discover new ways to take action on healthy Mindset, Movement, and Nutrition strategies in your daily life!
You can make it into a "12 Week Course" for yourself or take as much time as you like to soak up the information.
Each one gives you action steps to take a "Step", "Stride", or "Leap" to allow for different levels of readiness.
I plan on making these guides into a separate Therapeutic Lifestyle Change course and selling it separately for $47, and do still plan on doing that. But for now, the only way you can get these action guides is in the "Organic Posture Coaching Course".
Activities Of Daily Living Video Library:

–
If there's one thing you'll here me repeat over and over again, it's that exercises come and go, but it's "how you do what you do when you do it" that matters most when you want to protect and preserve your active body and active life!
In this area of the site, I aggregate all of my prior youtube videos along with specially recorded new ones that show you how to do your activities of daily living in a strain free, efficient manner so you don't injure yourself! See how to walk, sit, bend, squat, lift, get in and out of a car, push a shopping cart, and more.
Easily another $27 video course in and of itself.
Plus…I was (and still am) very reluctant to do this, but I am going to keep comments open so you will have direct access to me with your specific questions or comments.
I will inevitably have to stop doing that in the future but since it's still a fresh course, I'm going to continue until I just can't handle it anymore.
After all, my TIME is my greatest treasure. That's why my private client web consulting is $300/hr (and will likely go up soon).
So if you want access to comments, now is the time to jump in!
-Invaluable PDF on how to find a good practitioner who practices similar to the work in this course.
-Where to get quality rehab and fitness supplies
-Diet Guides for weight management, blood sugar problems, detoxification
Additional Health Coaching Video Posts
There are several other additional videos I recorded that support the original content to the core content of the course categorized under "health coaching".
-Any technical, billing, etc questions? Contact us through Support!
So let's add it all up to come up with a price for you.
-TLC Action Guides $47
-10 Core Secrets Audio Health Coaching $274.45
-Instructional exercise modules, 40 minute "Flow" series, Mini Circuit Videos, and Mini Circuit Snapshot PDF's $197
-5 hours of Q&A video $100
-Crucial Concept Videos $27
-Activities of Daily Living Videos $27
-Resource Center $??
-Direct access to me through comments $?????

So, at a bare minimum, not even including the direct access to me through comments, the resource center, ADL's, and

you're getting a very real value of over $672.45
And if you were to come to our office in person to get this same training and education, it would easily cost you twice that!

But the good thing is, you don't have to spend a dime on traveling and you can do it all from the comfort of your own home on your own time and at your own pace!

The OTHER good thing for you is that my mission is to get this information to as many people as possible so I want to lower the price barrier to a reasonable level.

So I decided to offer this entire proven program for only $291.

But since I promised you I was going to give you the course at the lowest possible price. I'm going to give you the same price I gave when I did the original introductory trial back in October of 2010 which is only $197.

And remember, your private, one-on-one coaching bonus with me is a very real value of $150 to boot!

So with the private coaching figured in, you're getting $822.45 worth of information for only $197!

All you have to do is be one of the first 15 people to click the "Add to Cart" button below
and you'll be inside the Core Wellness Institute Portal within minutes.

And once you're in, you've got access for LIFE! So even if you get sidetracked by crazy circumstances, it will always be there for you and the information will NEVER get outdated because it reflects THE TRUTH of how you were designed to function!
You Have NO RISK With This Course!

You have 30 days to decide if it's right for you. If not, just send us an email through support and your investment will be returned with no hassles or hard feelings! Fair enough? Click the ADD TO CART Button below the following stories to get access now!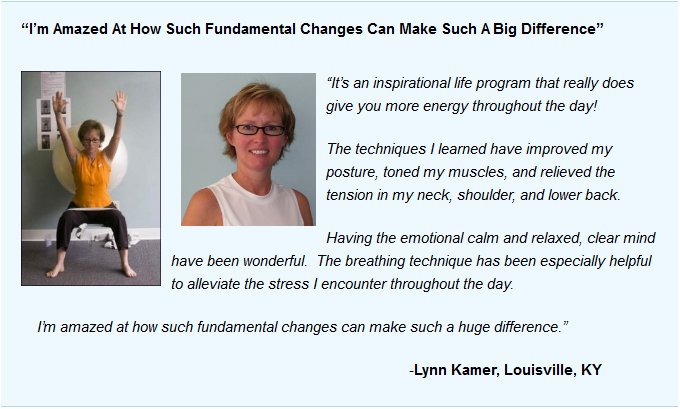 Here's what's going to happen after you click "Add To Cart" Below:


1. You'll be taken to Paypal page for checkout. If you do not have a paypal account, just click on "Don't Have a Paypal Account?" to use your credit card. (see screenshot below)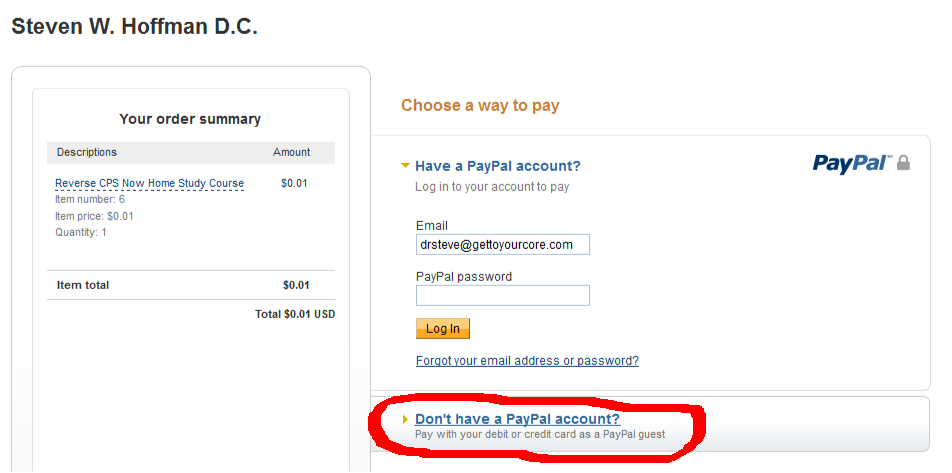 2. After payment is complete, click on "
Return To Core Wellness Institute"
(you may get a routine security message. Simply continue on)
and you'll be taken to the "Thank You" page that tells you what to expect and exactly what to do next!
Easy breezy.

THAT'S IT! Click "Add To Cart" below and get ready to enter into a whole new experience of pain free, energetic living with a strong, vital, and youthful posture!

[wp_eStore_buy_now:product_id:6:end]